If you are among the vast majority of the world's population, you begin your day with a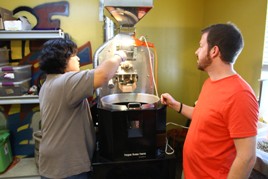 freshly brewed cup of coffee. Every morning you hit that the snooze button, knowing you will inevitably have to roll out of bed and begin your day. For many, the arousing smell of brewing coffee is what allures them out of bed, engaging their senses as the aroma begins to permeate throughout the home. The first sip is the best as it helps open the eyes and sends goose bumps throughout the body and a caffeine rush to the brain. For many, coffee is as a crucial part of their day as the very air they breathe.
Have you every stopped to think about where the coffee you had this morning came from?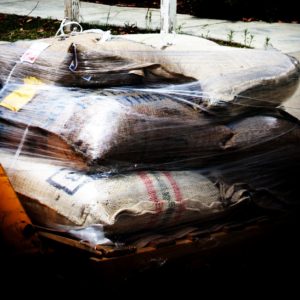 Besides purchasing your favorite brand at your favorite store, and deciding between Colombian and Kenyan, have you really given the globally dominate export any further thought?
According the International Coffee Organization (ico.org), coffee is a global commodity. The importance of coffee in the world economy cannot be overstated. Coffee is the second most traded and valued product in the world, second only to the global export of oil. The coffee industry alone currently produces around 7 million tons a year and over 500 billion cups of coffee are consumed in one year (worldmapper.org). More than 50 percent of Americans drink coffee every day, that's more than 330 million cups a day and counting (cbsnews.com).
Coffee is produced in more than 60 countries world-wide, of which, three account for more than half of the world's production: Brazil, Vietnam and Colombia. Shockingly enough, the global industry's leading coffee-exporting countries are also some of the poorest countries in the world: Burundi, Columbia, Congo, Ethiopia, Papua New Guinea, India, Indonesia, Tanzania, Uganda, and Vietnam (www.un.com). Around 75% of all coffee is exported to other countries and only Brazil and Ethiopia enjoy high domestic consumption. It is no surprise those names ring a bell. The coffee consumed today most likely came from one of these countries.
For a single cup of coffee to make it from the coffee farms in underdeveloped countries to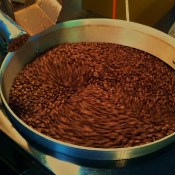 your favorite coffee shop, or your own kitchen, it involves quite a few people and detailed processing including: landowners, engineers, growers and farmers, pilots, roasters, packagers, shippers, tasters… you name it…it's on the list. A vast majority of the work is done by youth and orphans. All around the world in the poorest and most-neglected places, orphans play a major role in insuring the coffee makes it to your local coffee-shop and grocers. They are planting and growing the coffee, cultivating, hand-picking the harvests, cleaning, packaging, and shipping, and so on.
There is a connection between the coffee statistics you, the reader, as well as the coffee farms in Indonesia and Bakersfield and Kern County. They are coffee and orphans. The question is: What do orphans and coffee have in common?
Covenant Community Services (Covenant) would like to introduce: Covenant Coffee a fully independent and operational coffee roasting company. Covenant has brought the art of coffee roasting to Bakersfield, and is involving local orphans. You may be unaware that as of July of last year, Kern County currently had over 2,119 children in foster care, with over 150 leaving the system every year when they turn 18 (Kern Co. Network for Children). Within two years of leaving the system of foster care, over 50% of all former foster youth will be unemployed, 40% will be homeless, and 20% will be incarcerated at some point. The large majority of these youth will be homeless and incarcerated due to their inability to find employment.
Randy Martin, Covenant CEO explains Covenant Coffee will not only teach the art of roasting, but also the skills necessary for a business to operate, equipping the youth with marketing, public relations, and sales training. This will prepare local youth for future employment opportunities giving them the mentoring they desperately need and the skills and confidence to become successful and productive adults. Covenant Coffee is currently the only roasting company in Bakersfield. This means, Covenant Coffee will be providing its customers the freshest coffee available.
Covenant hired Isaac Dennis of Charlotte, North Carolina as their master roaster. Dennis' experience has given him a passion for coffee that cannot be compromised. He explained quality coffee is founded in certain principles that are not negotiable such as: quality beans, proper roasting, freshness, and marketing. "In my experience in the industry I have developed a discriminating taste for quality coffee, and the goal is to bring that roast to the area," says Dennis.
Covenant Coffee purchases green coffee beans directly from various international growers around the world and roasts them for sale to the general public, businesses, restaurants, coffee houses and individual sales. Covenant will sell the coffee in whole bean and ground increments of 1 pound, 2 pound and 5 pounds. Covenant's promise to the customer is to create a roast that will be distinct to each and every wholesale customer. In addition, Martin and Dennis assure all Covenant beans meet all criteria necessary for insuring a good roast, including: elevation, climate, shading and cultivation of the pre-roasted green bean. "We are going to provide the people of Kern County with something different, a holistic and different blend, following the bean from cherry to cup" says Master Roaster, Isaac Dennis.
Covenant's goal is to produce a quality cup of coffee to Bakersfield and the surrounding communities. Covenant's prices are competitive and the coffee beans will not be roasted until the order has been placed on the website. As the consumer, you will employ former foster youth; with profits also helping to fund coffee and foster-care partnerships in Tanzania. Covenant envisions a future where every foster child lives in emotional, physical, relational and spiritual wholeness thereby ending the cycle of abuse and neglect in our community and beating the odds of becoming a statistic.
"Being educated about the process of coffee is the main way consumers can enjoy and appreciate a good cup of coffee," says Dennis and "Everyone wants to make a difference in the world. The easiest way is to start with your daily cup of coffee."  As Gandhi said: "You must be the change you wish to see in the world…" "Why not start by providing hope to hopeless and jobs for the youth that inhabit our community."
"Foster youth usually don't grow up with positive role models" says Martin. The very definition of foster is to cultivate, develop, nurture, and encourage. The responsibility to foster the former foster youth in our community falls on members of the community and places like Covenant. The opposite of fostering is to push the youth aside and continue to allow the cycle of abuse and neglect to play out in their lives as they are disregarded, overlooked, and ultimately left completely abandoned.
Through roasting coffee, Covenant's mission to provide hope and love and a future to children will be just as much as part of the business as the roasting itself, as Dennis said "Everyone in their life has told them no, and left them to find their own way, and through Covenant Coffee we are going to tell them yes, you are a accepted."
Covenant Coffee is a symbol of hope in our community. Become an Ambassador for Hope today by purchasing organic, locally roasted coffee. By doing so you are choosing to stand against injustice in your community, and will help to provide jobs to the jobless thus breaking the cycle of abuse and neglect both here in Bakersfield and around the world. Covenant Coffee. Changing a child's future, one cup at a time.
To purchase coffee and stay current on the development of Covenant Coffee and see how your coffee dollars are changing lives, please visit: www.covenantcoffee.org. Covenant Coffee is a division of Covenant Community Services, Inc. Covenant aims to "Provide hope and love to abused and neglected children in Kern County." For more on what Covenant is doing in the community please visit www.covenantcs.net. Covenant is al
so on Facebook and Twitter.
Written by Lindsay Long a former employee of Covenant and a Coffee Lover!
(sites: International Coffee Organization, Economy Watch, UNICEF, United Nations, KCNC, Institute of Economic Affairs 2010)